Kurdi is believed to have been born in 2013 in Kobanî, Syria. A Syrian journalist claimed that the family name was Shenu; Kurdi (as a last name) had been used in Turkey because of their ethnic background. After moving between various towns to escape ISIL, his family settled in Turkey for three years. The family returned to Kobanî at the beginning of 2015, but returned to Turkey in June 2015 when ISIL attacked Kobanî again. Following two failed attempts to take the family to the Greek island of Kos, Kurdi's father arranged a third attempt.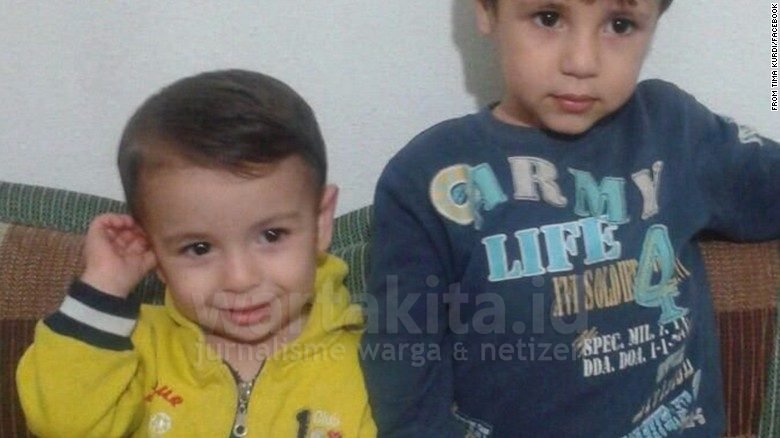 Fatal boating accident and body recovery
In the early hours of 2 September 2015, Kurdi and his family boarded a small plastic or rubber inflatable boat, which capsized about five minutes after leaving a beach at Bodrum in Turkey. Sixteen people were in the boat, which was designed for a maximum of eight people. They were trying to reach the Greek island of Kos, about 30 minutes (or 2.5 miles) from Bodrum. Kurdi's father said: "We had no life vests", but also said they were wearing life jackets, but they "were all fake". Others have stated that they believed that they were wearing lifejackets but the items were ineffective.
It was later stated on Syrian radio that the Kurdi family paid $5,860 for their four spaces on the boat, which had twelve passengers on it despite being only about five meters long. Alan Kurdi's mother joined in the trip even though she had a fear of being on the open sea. Tima Kurdi, Alan Kurdi's aunt, advised her sister not to go. The individuals on the boat evaded the Turkish coast guard by setting out from an isolated beach, going out late at night.
Around 5 am authorities started an investigation, after an emergency call that a boat had capsized and bodies were coming ashore. The bodies of Kurdi and another child were discovered by two locals at around 6:30 am on the same morning. The two men moved the bodies from the water onto the dry part of the beach. Later, Kurdi was photographed face-down on the water's edge by a Turkish press photographer.
On 3 September 2015, Kurdi along with brother Galib and mother Rehana were taken to Kobanî for burials, which took place the next day. It is Islamic tradition to bury the dead within 24 hours if possible. Now, Alan's cousins already arrived at Vancouver (29/12).